Based on co-writer DeLeeuw's novel "In This Way I Was Saved", Daniel Isn't Real is director Adam Egypt Mortimer's second feature film. It first premiered on 9th March 2019 at the SXSW Film Festival in Austin, Texas – with additional premieres in film festivals all across the world and a Best Director win at the Bucheon International Fantastic Film Fest. Produced in collaboration between SpectreVision and Ace Pictures Entertainment, the supernatural horror/thriller stars a dynamic cast of millennials including Miles Robbins, Patrick Schwarzenegger, Sasha Lane, and Hannah Marks.
Set on the grounds of what appears to be a seemingly innocent escape from reality may not be so innocent after all. Daniel Isn't Real centers around Luke (Robbins), and his childhood "imaginary friend", Daniel (Schwarzenegger) as he reappears in Luke's life after 12 years during troubled times. As their bond deepens, the lines between fantasy and reality begin to blur with a haunting clarity – Is Daniel really just imaginary – or could something more sinister be at hand.
Throughout the movie, it's hard to distinguish who gave a better performance, with both actors clearly coming out of their shells as the story progresses. Originally a model, Patrick Schwarzenegger's rendition of Daniel dazzles audiences with a kind of electrifying cockiness that strangely isn't overbearing, yet is somehow terrifying as he manages to provoke just enough reaction that one can't help but be drawn to him. It's clear that Schwarzenegger brings his modelling background into his style of acting, but what's even more surprising is the panache he displays; it's a kind of celebrated breakout that's rarely seen in other young models-turned-actors.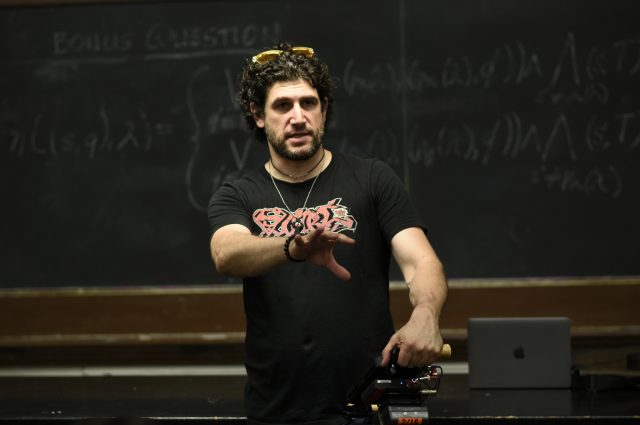 Robbins on the other hand starts off mild, and is almost completely overshadowed – that is, until his character, Luke begins his pivotal shift. When this happens, the difference puts both actors on par, with Robbins now on a completely different style of acting from when the film begins. So much so, that it's almost startling to watch his transformation as he eases into it so seamlessly, one sometimes forgets how Daniel had the lead. His performance recently won him the best actor award at the 2019 Sitges Film Festival in Spain.
While the two main leads may have been the stars of the show, Sasha Lane delivers an equally compelling act as Cassie, the focus of Luke's adoration. For those unaware, Texas born Lane had her first lucky break in 2016 when she was spotted on a beach in Florida by Andrea Arnold to act in American Honey. With no previous actor training, or desire to act, Lane became a star almost overnight when she won the British Independent Film Award's Best Actress category for the show. She has since starred in various other Indie movies including Hearts Beat Loud, The Miseducation of Cameron Post with celebrity Chloë Grace Moretz, and the Hollywood movie Hellboy.
But the growing stardom of the cast doesn't stop there. Hannah Marks, who plays the cute semi-goth Sophie is just 26 this year, but has done more than just act. She will be the youngest female director ever to lead a major Hollywood film as she takes the helm of the movie adaption of John Green's 2017 novel, the Turtles All the Way Down.
On top of undeniably good acting and a stellar handpicked cast, to produce the intensity that Daniel Isn't Real demonstrates, the production team uses an impressive array of sound designs and scores that affects the mood of each frame as if it were magic. This paired with a well thought out colour palette and equally impressive visuals, brings audiences on a thrilling ride into the dark minds of Daniel and Luke – making it a movie not to be missed.
Run Time: 1 hour 40 mins
Written by Brian DeLeeuw & Adam Egypt Mortimer.
Based on the novel In This Way I Was Saved by Brian DeLeeuw.
Directed by Adam Egypt Mortimer.
Produced by Daniel Noah, Josh C. Waller, Lisa Whalen and Elijah Wood.
Executive Producers – Annie Chang, Johnny Chang, Calvin Choong, Peter Wong, Timur Bekbosunov and Emma Lee.
Starring Miles Robbins, Patrick Schwarzenegger, Sasha Lane and Hannah Marks.
This project is fully funded by ACE Pictures.
OFFICIAL SELECTIONS:

SXSW Film Festival 2019 (PREMIERE and WINNER – BEST POSTER DESIGN)
Bifan Film Festival 2019 (WINNER – BEST DIRECTOR)
Beyond Fest 2019
Fantasia Film Festival 2019
Neuchâtel International Fantastic Film Festival 2019
Oak Cliff Film Festival 2019
Overlook Film Festival 2019
Sitges Film Festival 2019 (WINNER – BEST ACTOR)
Sydney Film Festival 2019