"Bridesmaids" star Wendi McLendon-Covey is no stranger to the world of comedy. With two Best Actress nominations at the Critics Choice Awards for her role as Beverly in the hit sitcom The Goldbergs, landing the lead role of Debra Eisenstadt's Blush seemed almost like fate. But that doesn't mean it wasn't a daunting task for the both of them. With only 15 days to shoot and over 200 scenes to get through in a Californian heat wave, you'll be hard pressed to not feel a twinge of awe and respect for the team behind it all.
Most well known for her first feature film, Debra Eisenstadt wrote, produced, directed, shot AND edited the film Daydream Believer, winning her an Independent Spirit Award and The Grand Jury Prize at Slamdance Film Festival 2002. She also wrote, produced, directed, and edited the award-winning films The Limbo Room and Before the Sun Explodes. Surprisingly, Blush is actually Eisenstadt first Sundance Film Festival debut and McLendon-Covey's first lead role in a feature film. Eisenstadt not only wrote and directed the film; like her other features, she also helped co-edit and co-produce her labour of love.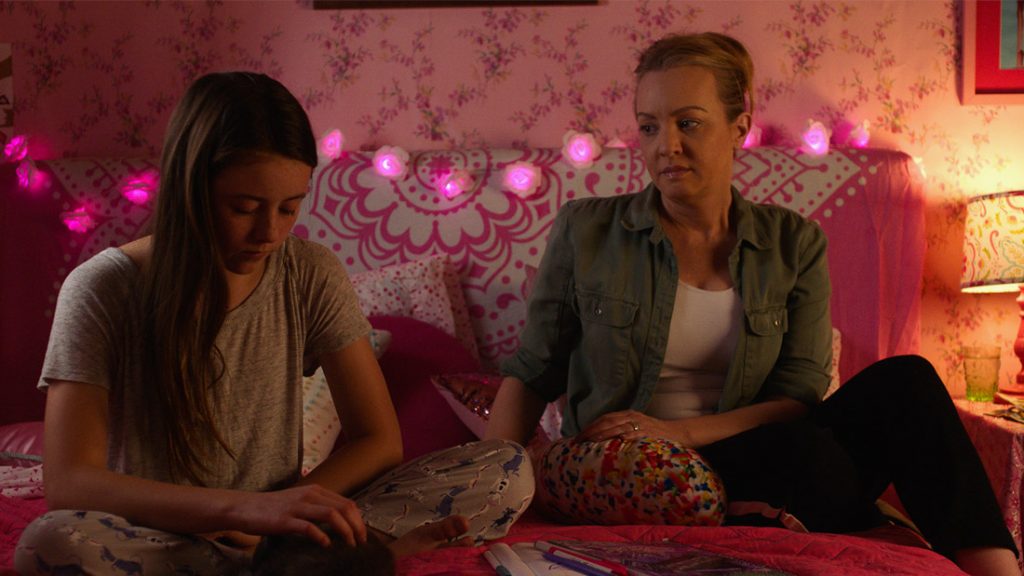 Written over the span of 8 years before being picked up by Ace Entertainment Pictures, Blush is based upon events in Eisenstadt's own life. The writer/director, however, insists that the film is just a sublimation of her fears and insecurities penned into a script during a midlife crisis episode.
The plot of Blush takes on a suburban setting but gives the usual motherhood over career drama an almost dark comical twist that remains entertaining yet relatable throughout. In the film, McLendon-Covey stars as Cathy, a perfect almost Stepford Wife like figure that loses her grip as her relationships with her husband and daughter slowly fall apart. She escapes by retreating to her sister's home where she cat-sits, compulsively cleans, and develops a fascination with the neighbouring family – one that is completely opposite of her own – eventually leading to her downfall, one well-intended but miscalculated decision at a time.
The movie is a fun yet almost shocking take on what appears to be "the grass is always greener on the other side." Eisenstadt had apparently created a character and plot so intimidating, every actress she approached was too afraid to take up the role – until McLendon-Covey, who by the way, executes it like a pro despite being completely exhausted from doing three productions simultaneously in a row.
Running Time:1 hour 41 mins
Written and Directed by Debra Eisenstadt.
Produced by Debra Eisenstadt, Cosmos Kiindarius, Peter Wong and Timur Bekbosunov.
Executive Producers – Annie Chang, Johnny Chang, Calvin Choong and Emma Lee.
Starring Wendi McLendon-Covey and Max Burkholder.
This project is fully funded by ACE Pictures.
OFFICIAL SELECTIONS:
Sundance Film Festival 2019 (PREMIERE, DRAMATIC COMPETITION)
Big Apple Film Festival 2019 (WINNER – BEST FEATURE FILM)
Downtown LA Film Festival 2019 (WINNER – BEST EDITING)
11th Annual Santa Fe Independent Film Festival 2019
Crested Butte Film Festival 2019
Provincetown Film Festival 2019
Seoul International Women's Film Festival 2019
Taormina International Film Festival 2019
Woodstock Film Festival 2019